Since 1846 Cambridge University Botanic Garden has been a focus and stimulus for Science in the university attracting thousands of visitors and researchers each year. Set in 40 acres of beautiful gardens and glasshouses there is something for everyone
The project
We partnered with CUBG, one of the most visited attractions in the city to help revitalise their online presence, creating a website that reflects the ever changing garden, its vital scientific work and improve engagement through visiter numbers, memberships and programme participation.
The initial objectives outlined:
 Convey content to the right audiences without alienating others 

Reflect the changing nature of the garden

Search and incorporate Plant data from a database of over 2 million species

Improve on a creaking CMS and create admin privileges  

Overhaul a outdated site structure and improve user journeys

Increase garden membership and programme bookings and promote the events programme
Planning
Laying down the roots
To help us really understand CUBG, our team spent time getting to know the garden, it's history, attractions and observing how people interact with its many spaces and offerings.
We conducted a workshop with stakeholders to explore its business goals and identified it's many user groups and their individual needs.
To achieve a positive engagement for all parties, we mapped content and responses to each of the user needs resulting in a focussed and much improved set of user journeys and site structure.
The outcomes
This part of the process becomes our 'reason for doing' reference, every following choice/decision we make in the project can be pulled back to this phase – the user objectives and business goals. An approach that keeps the project focussed.
Defined key areas of focus:
WordPress, UX, Design & build, SEO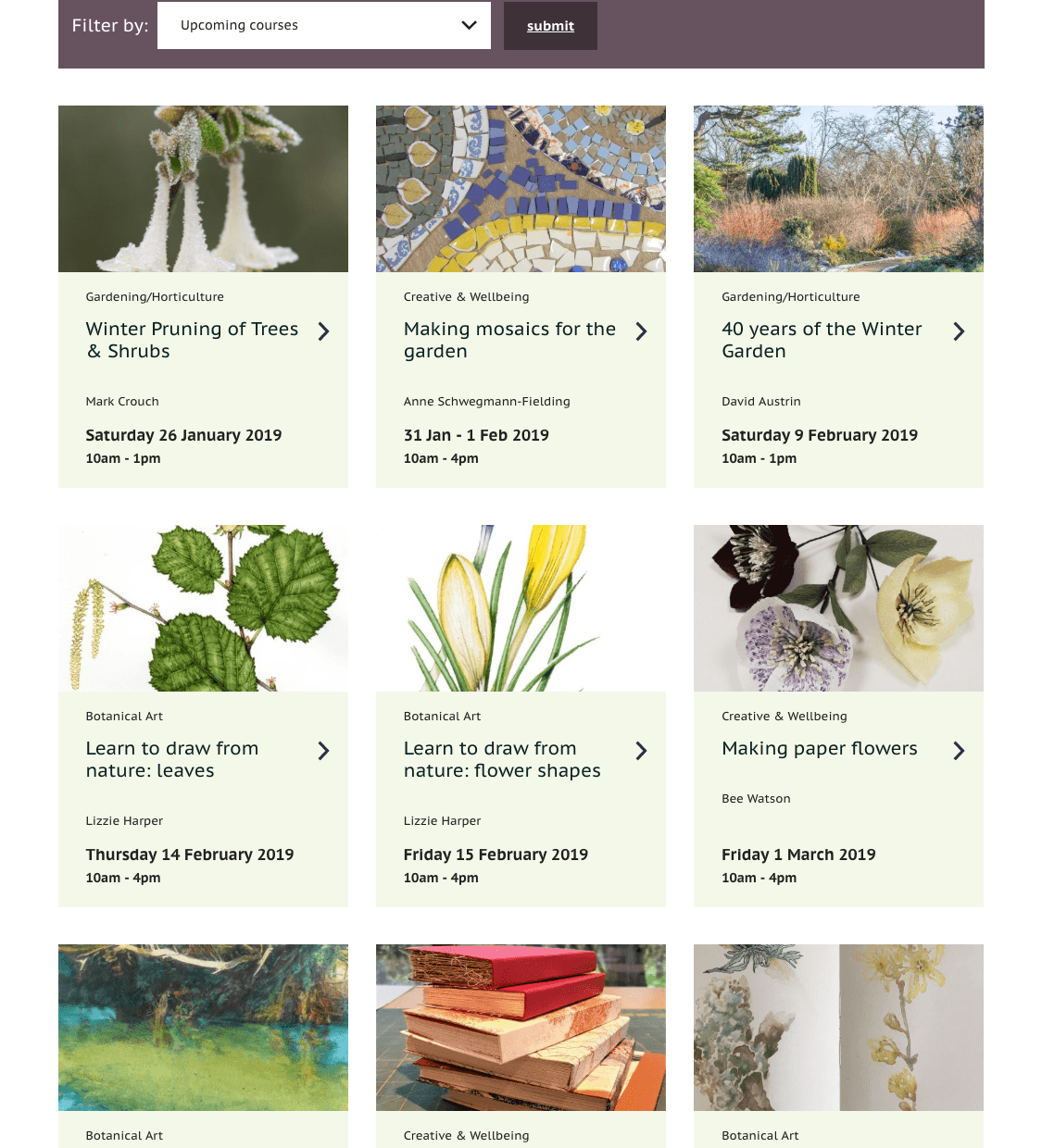 Can a website reflect nature?
The Botanic Gardens are living, ever-changing entities. It was important that the website reflects the ebb and flow of seasonal changes.
How we recreated the seasons
To help reflect this we created a colour palette which changes automatically with each season complimenting colour palette of the garden and its collection. Combined with photography that is regularly refreshed we've created a harmonious relationship/experience between garden and website.
Daily plant highlights
Each day the head of horticulture curates a list of the days must see plants which is published on the website and around the garden. Website users can view the plants and their locations, allowing them to plan their visit.
Botanical History
We also worked closely with the Team in the Cory library to hand select botanical drawings from their extensive collection which we photographed and animated within the background of the site. A respectful nod to the tradition and history of the gardens.
More that just a garden
The team at CUBG are an innovative bunch and it has a lot more to offer than you may expect.
With a busy programme, the garden acts as an outdoor classroom for all ages with programmes for schools, colleges, community groups, families and adults.
You can download the latest garden podcast. Take a leisurely walking tours or book a creative course. If that doesn't take your fancy just sit in the hothouse and watch the world go by.  
Clear the path to content
Offering so much a clearer content structure was introduced enabling users to find areas of interest, whilst folding in recommendations and things they may not have considered. Clear entry into a new events and courses listing with filtering that makes sense to the audience.