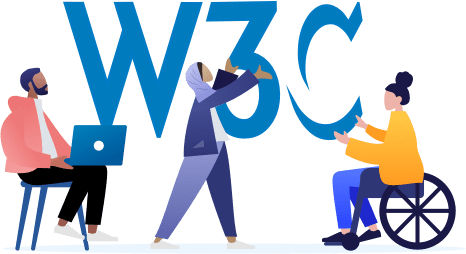 About W3C
The World Wide Web Consortium (W3C) is the international standards organisation, founded by web inventor Tim Berners-Lee. W3C develops standards and guidelines to help everyone build a web based on the principles of accessibility, internationalisation, privacy and security.
In March 2020, following a global public tender, Studio 24 was appointed to redesign the website for W3C.
Read our case study or visit the Working in the Open website to find out more about the project.
What did we learn from the W3C project?
Working with W3C has been an amazing experience for the Studio 24 team. We have written about things we have learned both as individuals and as an agency. Highlight posts include:
You can read more about the project and our work on our blog.
Accessible front-end development
As a result of this project, we developed our own open source accessible front-end starter kit called Amplify.
Amplify has been accessibility tested, including with people with disabilities, as part of the W3C redesign project.
Studio 24 team
Project recognition
As a team we are proud to have been recognised in the 2023 Gaady Awards. The Gaadys celebrate outstanding digital products that support the GAAD (Global Accessibility Awareness Day) Foundation's mission to disrupt the culture of technology and digital product development to include accessibility as a core requirement.